All Glen Lake Fire Department personnel are licensed Paramedics or Emergency Medical Technicians (EMT) and trained firefighters.
Professional firefighting requires high demands of physical and mental performance.  Each full-time firefighter is required to complete a minimum of 240 hours of training annually to maintain the skills essential for effective recognition, tactics, and performance.
The departments Paramedics and EMTs respond to approximately 400 calls for aid each year.  To provide the highest level of pre-hospital care all licensed medical personnel are required to attend State approved continuing Emergency Medical Services education classes and must meet the annual education and protocol requirements established by the Northwest Regional Medical Control Authority.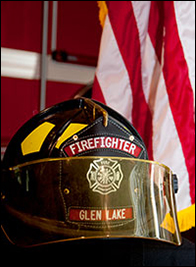 GLFD Emergency Services include:
Structural Firefighting

Emergency Medical Services and Advanced Life Support

Water and Ice Rescue

Hi-angle and Overland Rope Rescue

Vehicle Extrication

Hazardous Material Operations-level Response

Search and Rescue

Wildland and Urban Interface Fire Suppression

Mutual Aid Responses with other Departments

Scene Stabilization and Security

Other Emergency Responses

Walk-in Assistance
In case of Emergency, Dial 911
Dialing 911 is the best way to access medical and fire services.  However, we know there are times when minor non-urgent situations arise.  GLFD offers in-station complimentary blood pressure and blood glucose checks.  We also provide injury assessments and treatments for a variety of minor medical issues such as cuts, abrasions, burns, insect bites, etc.  We cannot dispense medications including over-the-counter medications.