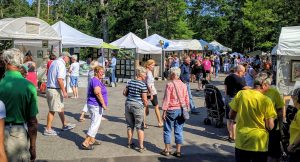 The Glen Lake Woman's Club Art Fair is the third Wednesday of July, 10 am to 4 pm, behind the Town Hall. Approximately 90 artists apply and are invited by jury.  Admission is free for the public to view, shop and enjoy family centered activities. Proceeds from the Fair fund scholarships for the Glen Lake Community School students and graduates.  Since 1980 the Club has awarded $275,860 in scholarships to 210 students. 
Due to community concerns during Covid19, the Art Fair was cancelled for July of 2020 but plans to resume as usual in 2021.
Follow the Glen Lake Woman's Club Art Fair on Facebook here and learn more about the event here.