Coronavirus Info
As we operate in these very unusual times know that the Township is operating and available to answer questions and to help in many situations.
Please click here for the most up to date Covid-19 information from the state of Michigan.
Statement release on Monday, May 18th announcing that Gov. Whitmer Releases MI Safe Start Plan, A Plan To Re-Engage Michigan's Economy 
reopening recommendations and restrictions to begin Friday, May 22nd. 
For those residents returning from elsewhere in the country or world, please know that the Township is responding to the crisis with a high degree of diligence to directives from the federal and state governments. We ask that you join us in our diligence, as this will help to keep us all safe and healthy.
Get groceries from Anderson's Market, open for safe in-store shopping, order ahead for curbside pick up, delivery available, and you may also order online.  Get your home, garden and other essentials from Northwoods Hardware store, now offering online shopping "for ship to home or ship to store." Call ahead for curbside pick up. Local delivery available.
Many local restaurants, and retailers that are open, provide take-out service with curbside pickup. Just call for current business hours and ask about updated offerings and services before going out.
The Post Office has marked the six-foot social distancing space for all of us to observe.
While being outside and exercising is strongly encouraged, the restrooms in the Garden and the Park have been opened but note that the park is not being sanitized at this time. Please remember to distance yourselves from others if using these areas.
The attitude with which we all approach these difficult times is important. Whether you pray or meditate take time to be quiet and mindful. Let's be smiling more, greeting each other (with six feet of space), and looking for ways to help our neighbors. Take a walk with a friend, spouse, or child (practicing social distancing).
Again, know that your Township Officials are here to help!  You can reach us at 713-376-1465 for Peter the Supervisor or 616-450-1759 for Pam the Clerk.  You may also call the office as Pam is working limited hours on-site.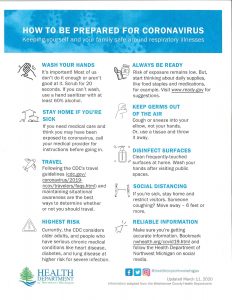 Click here for a larger version of "How To Be Prepared For Coronavirus"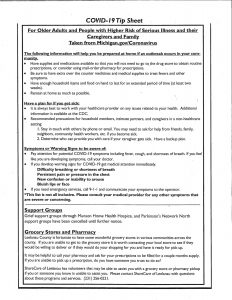 Click here for a larger version of "Tips For Those At Higher Risk"